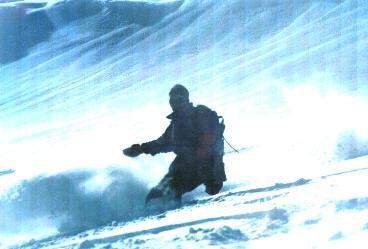 It is Photo By Murakami in Tateyama in November, 1997.
---
Let's go to Snowboard!!
Do soon? Is it a seasonal beginning or does not exist (MARUNUMA in japan opens on October 28). There was a rumor of mild winter this year, too and did for a moment because it worried. And Last season are not to be able to snowboarding by as much as 1cm. I will want to go after a long time in Hokkaido this year. As many as HAKKOUDA is long silences. ASAHIDAKE had and the gondola revived. It is a wear debut bought last year.
By the way, what is the happiness of snowboard? SnowBoard mailing list Though it sometimes becomes a topic I wonder whether it is a free point. There is variously snowboarding style. It is not like the textbook by which stands on ceremony as skiing. (Though it might be not so recently. ) After that, New snow (Powder) is very happy and wonderful. as for floting feeling. To enjoy (*ofpiste*) safely in domestic ski slopes, Some efforts and risks as gets up early in morning, The fate of the weather etc. is necessary. Though about HAKKOUDA and ASAHIDAKE and NISEKO are recommended Please note the avalanche etc. enough. Do not make light of the mountain though it says with an air of great importance. Recently, It aims also by HAKKOUDA by doing the snow of ) tour. It had gone to the hem board in Canada so often. Though it was regrettable not to be able to meet waist (*pau*) which the expectation is too great, and thought It had enjoyed it. The photograph etc. improve sooner or later, too.
SnowBoard Pages
---
Last Updated on 2000.10.23
---

Go to Top Page